Valentine's Day Gift Guide, pt. 2: Favorite Sex Toys
Every day is Valentine's Day when we're giving love and pleasure to ourselves or sharing with another. Here, as promised, are my absolute
favorite pleasure enhancers
. (The links go to my original reviews or to the retailer directly, depending on whether I've reviewed this product on my blog.)
I took so long posting this because I kept wanting to include more toys, and finally realized I'd never get it written unless I limited my choices. So these are what I would want with me if I were stranded alone on a desert island that had a wall socket, a supply of batteries, and a comfortable pillow for my arthritic neck.
We're all different, so just because a particular product is my solo sex partner of choice, that doesn't mean you won't prefer another. To see other toys I've reviewed or my tips about choosing and using toys, click
here
.
Pleasure giving sex toys: Joan's favorites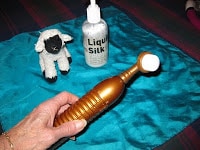 In
Better Than I Ever Expected: Straight Talk about Sex After Sixty
, I raved about
The Eroscillator
, the vibrator that Robert and I enjoyed together, especially with the soft, "marshmallow" attachment — be sure to get that one! The vibrations — oscillations, actually — are very strong, yet the wand is light to hold and because of the slim design of the attachment that touches your sweet spot, it can be used for clitoral stimulation during intercourse without getting in the way. The only thing I don't like about it is that it can only be used plugged in, so we were always flipping the cord out of our way. A minor distraction compared to the pleasure the Eroscillator gives!

I'm not the only one who loves the Eroscillator: Dr. Ruth Westheimer endorses it, and one of my readers wrote about how this supertoy gave his wife her first orgasm in six years.
For super-intense clitoral stimulation and an inevitable happy ending (not always assured at our age, you know)  the Hitachi Magic Wand is, well, magic! It is heavy and loud and has to be plugged in, but so what? It ranks right up there with the automobile and the iPod as one of technology's greatest inventions. Read my review here.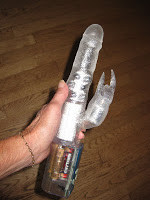 I've tried a few "Rabbits" (dual-action vibrators), and the only one that sent me to outer space was the Snow Bunny. The size, shape, distance between parts, and vibrational intensity were right for me. Your mileage may vary, and luckily, there are many Rabbits to choose from if the idea of clitoral stimulation + penetration in one toy appelas to you. Read my review here.
And don't forget the lubricant:
Liquid Silk is my favorite lubricant to enhance the joy of friction with a partner or a favorite sex toy. It's creamy, feels natural — smooth without being overly slick, and doesn't get tacky. Maybe best of all, it won't harm silicone toys (as silicone lubes will), yet feels better than the other water-based lubricants I've tried. If you haven't settled on a personal favorite, I always recommend trying a sampler selection from a favorite online or walk-in woman-friendly sex toy shop. Don't rely on the selection available at your local drugstore.
Happy Valentine's Day, dear readers! Take pleasure today — and often.