Bonershaker/ Ladyshaker: a vibrating pleasure machine!
I love my job reviewing sex toys. What I don't get in paychecks (and no, I don't get paychecks for this!), I get in pleasure and, often, laughter. When a male pal asked me, "Won't you run out of toys to test? How many different ways can they make a vibrator?" Oh, naive friend, read on.
The
Bonershaker/Ladyshaker
* is in a class all by itself. This isn't a sex toy — it's a sex
machine
. It's big, heavy, and loud. You can dial it up to the strongest vibrations you can tolerate. And it's amazing.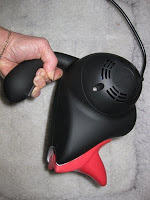 The same machine is for women and men — you just change an attachment to make it Bonershaker or Ladyshaker, so if you're a M-F couple, you just have to purchase it once and switch attchments to suit you.
You've heard me complain that many vibrators just aren't strong enough for those of us who need more stimulation at our age. This one delivers. The Ladyshaker attachment curves over the vulva and shakes, shimmies, rattles and rolls until you reach your peak. If you have arthritic wrists, you'll want to nestle it firmly in your lap rather than holding on the whole time (I discovered) — but be careful it's settled where it can't skitter away, with your hand close enough the handle to grab it if needed.
"Your demo dick is here!" my invited guest announced. You don't think I'd review this machine from the female perspective only, do you? In fact, one of the attractions of this machine is the intensity for men. If you have undependable erections or have trouble reaching orgasm, the Bonershaker might become your new best friend.
My guest, a male friend who doesn't back down from any kind of sexual adventure, even those with inanimate objects, was happy to test the Bonershaker and offer his comments. "This could get you a pretty solid hard-on for preparing for a partner," he observed. "If stimulation continues long enough, orgasm is inevitable." He found it easiest to use seated so that he could rest the machine on his thigh. He liked a mid-level intensity. "With daily use," he concluded, "I'd condition myself like Pavlov's dog, and just the sound would get me started!"
The videos just give you a glimmer of the Bonershaker/Ladyshaker's possibility.
The
Boner/Ladyshaker
is made in England and costs UK£ 129.99 ($197). If you want to use it in the U.S., you'll need a
step up converter
. The converter seems to create a slight reduction in power. I know this because the manufacturer recommends using the lower settings over clothing — the video shows the happy guy wearing jeans. But I used the higher settings over fabric that was much thinner than denim, and it was just right.
Thank you,
Bondara Sex Toys
, for the opportunity to review this product!
*Update 2/1/11: Oh, no! The Bonershaker/ Ladyshaker has been discontinued, the nice folks at Bondara tell me. How sad. Enjoy this review anyway. Maybe I should rent out my Bonershaker/ Ladyshaker by the half-hour? Not that it would take a half hour….