The
Vibratex Blue Delilah
aims to address our complaints that dual action ("rabbit" style) vibrators don't allow for variations in anatomy when determining how far apart the clitoris and G-spot are "supposed" to be. This charmer of a toy leaves that to us!
Blue Delilah has two completely separate vibrators connected by a long, coiled cord like a phone cord (yes, youngsters, phones used to have cords). The vaginal/G-spot stimulator is totally separate from a bullet vibrator with two optional sleeves — one makes it a clitoral vibrator, the other is for anal pleasure.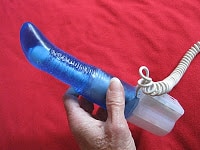 The vaginal section is shaped with a curve (the better to find your G-spot), and I like that the head is tapered for easy insertion. It gyrates when turned on.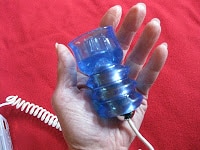 The clitoral sleeve is sort of cup shaped, with little tentacles inside the cup that wiggle around when the bullet is turned on.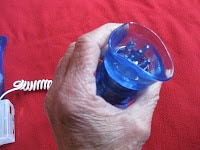 The cord can be stretched to five feet. You don't need a cord so long for solo play, unless your clitoris is down the hall from your vagina, but it does make it easier for partner play. For example, you could start out using both vaginal and clitoral stimulation from the Delilah, and then when it came time for partner penetratrion, you could easily set the large part of the Delilah aside and far enough away to stay out of the way, while still using the clitoral bullet. On my own, I found the cord did get in the way and had to be flipped aside a few times, but it didn't become distracting.
Blue Delilah uses 4 AA batteries. The bullet and the G-spotter are controlled separately, so you can have one on strong vibrations, the other mild if you like. I would have liked the clitoral intensity a notch higher, but most people would consider it quite strong turned all the way up.
The parts of the Blue Delilah that touch your privates are made of 100% elastomer, a soft, squishy material compatible with water or silicone based lubricants.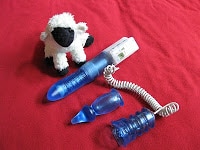 Blue Delilah
came to me from the wonderful
Kama Sutra Closet
, a woman-run shop with a
living room environment
in Ventura, CA, offering hand-picked sensual products for your delight.