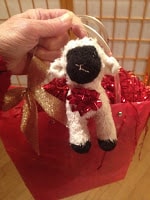 Looking for the perfect gift for the sexy seniors in your life? Here are some gifts that are sure to please (repeatedly, in some cases!). Most are delights I found in 2011, though a couple are treasured earlier discoveries that I want to be sure you know about.
Here are my favorite toys that I tried for the first time in 2011. Click the links to read my full reviews.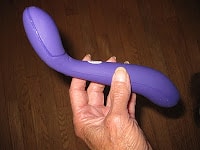 Minna Ola
: Strong, rumbly vibrations surround your clitoris nestled into a cushy pad. Truly innovative!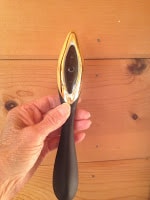 Zini Ran
: My new favorite for vaginal stimulation, tapered, slim, and strong. It can also be used for clitoral stimulation, if you prefer.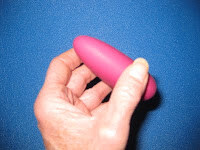 MiMi
: A tiny, quiet clitoral vibrator, just right for travel or for slipping between sex-joined bodies for extra clitoral stimulation.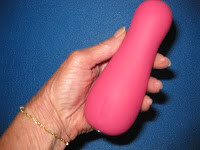 Jimmyjane Form 4: A throbbing, rumbling, luxury vibrator that you can enjoy in the shower or bath as well as in bed.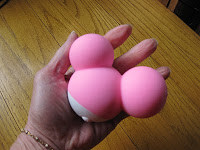 Yooo: The cutest sex toy ever, like a bubblegum-colored Mickey Mouse head that vibrates… really nicely!(Please see my other vibrator reviews by clicking here. Keep scrolling down — there are many!)
House of Holes by Nicholson Baker: An erotic fantasy novel that is crude, rude, sexy, and utterly hilarious! Only the author and one character are our age, but it's still the best of the year.Free Fall: A Late in Life Love Affair by Rae Padilla Francoeur: An erotic memoir that takes place when the author is 58 and her lover is 67. Hot and provocative,and a beautiful homage to sex and love at our age.Sex at Dawn: How We Mate, Why We Stray, and What It Means for Modern Relationships by Christopher Ryan and Cacilda Jetha. Convinced that monogamy is unnatural and unreasonable for our human species? This book is packed with research that supports this, and is written in such an entertaining way that you'll enjoy it throughout. I'll give this deserving book its own review soon.
Sugar in My Bowl: Real Women Write About Real Sex ed. Erica Jong. A remarkable anthology of personal essays and a few short stories, all revealing what women think about sex and their pivotal sexual experiences.
Dear John, I Love Jane
ed. Candace Walsh and Laura André. An anthology written by women who left their straight life/ relationships/ husbands because they fell in love with women.
Sex Counsel
by Suzi Godson. Godson writes sex and relationships advice for
The Times
in the UK and edits 
More Sex Daily
. She is smart, funny, and compassionate, and backs up her advice with research. Her questions come from people of all ages, many of them our age. I'll give this worthy book its own review soon. UK readers: book is available here.
JOAN'S BOOKS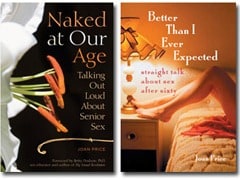 Forgive me for patting myself on the back, but my own books make perfect gifts for the special someone in your life. Order directly from me and I'll autograph your books to your giftee. Write "lube, please" in the comment box, and I'll include a free sample of Blossom Organics.
Naked at Our Age: Talking Out Loud About Senior Sex: Real-life women and men over fifty tell stories of their past and present sex lives, ask questions, and get straightforward advice and information from 45 experts: therapists, medical professionals, sex educators. If you have a problem, question, or concern about senior sex, it's answered here!


Better Than I Ever Expected: Straight Talk about Sex After Sixty: An upbeat, frank, woman-to-woman friendly book that acknowledges the challenges and celebrates the delights of older-life sexuality. This book combines memoir with candid comments and tales from lively, earthy women who aren't afraid to talk about their sex lives.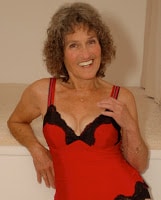 Photo by Ruth Lefkowitz
Take your sweetie to your favorite lingerie destination and have her try on a few outfits, buying the one that makes you go va-va-voom! (Read my latest lingerie post and maybe print it out for her if she isn't in love with her body — lingerie is very flattering!)  This is for guys, too:  the smoothness of silk over the male anatomy will be a delight for both of you. (If he's shy about trying on undies in a department store dressing room, you might just make the purchase and surprise him.)
LUBRICANTS
Blossom Organics Lubricants for Women: This year I discovered Blossom Organics. Only naturally pure, female-friendly ingredients keep your tender parts moist and slippery for the joy of friction. I especially like the arousal gel for an extra zing!