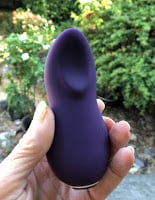 9/16/18 update: I'm moving this review to the top because the We-VibeTouch has become my favorite travel vibrator! It's tiny enough to pack in the toe of a shoe (not one you're wearing, of course) and so light that it adds no discernible weight to your carry-on. With all that convenience, you do not sacrifice power — it's strong and gets the job done, so to speak. 
Original review published 7/23/18:
The lovely folks at We-Vibe are celebrating a decade of creating pleasure products, and they sent me their latest products to sample. My favorite from We-Vibe is the Touch: small enough to be an easy travel companion, quiet, yet strong. I love the shape and its versatility — it's curved to cover much of the vulva for all-over stimulation, or press the cupped area over the clitoris, or point the tip wherever you want it, or combine any or all of these.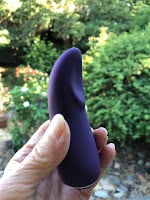 The Touch is fabulous to use on the clitoris during partner sex as well as solo, because it doesn't get in the way of two joined bodies. If you enjoy penetrative sex and need extra clitoral stimulation for your journey towards orgasm, this makes it easy and sweet. Add it for extra clitoral stimulation whatever kind of sex you might be enjoying — penetrative or not.
I had an earlier version of the Touch which I liked, but this one I love. The earlier Touch was made of a shiny silicone — this one is matte silicone: smooth and slick used with water-based lubricant, which enhances the sensation. It's small, weighs almost nothing, and if you're taking it as your travel companion — which I recommend — it takes no room in your carry-on.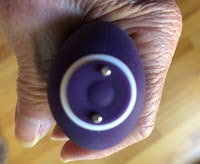 The controls are a raised button at the base, easy to find and use during use, though with lubed fingers you may need to press hard. (The two silver things are for charging.) It's completely waterproof — who needs a rubber ducky in the tub when you have the Touch? It has 8 vibration modes: 4 intensities and 4 patterns, and is surprisingly quiet, rumbly, and decently strong. It comes with a white satin pouch.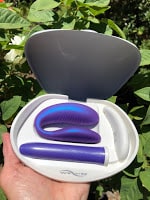 To celebrate 10 years, We-Vibe is offering their Anniversary Collection: the newest version of the We-Vibe Sync and the Tango mini-vibrator, both in passion purple in a compact travel case that doubles as a charging station.
We-Vibe Sync is advertised as a couple's vibrator, to be worn during penetrative sex, with the smaller end in the vagina against the G-spot and the larger end stimulating the clitoris. It's smaller and slimmer than earlier versions, and the bend between the two sections is adjustable, which is an improvement. It has an optional remote.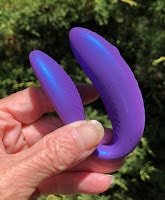 Despite all this, I don't find it comfortable during partner penetration and I prefer to use it solo as a warm-up. Insert it during a shower or bath (it's completely waterproof), or just wear it around the house for a while, vibrating to get the blood flow going to the genitals, and you'll find arousal is faster and orgasm is easier. It can be used other ways and for other erogenous zones, too — experiment and enjoy!
In a long-distance relationship? Use the We-Connect app to let a partner of your choice anywhere in the world control the vibrations. Or sync the beat to your favorite music. Playtime!
Thank you, We-Vibe, for sending me the Touch and the Anniversary Collection for review. Happy anniversary!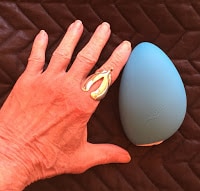 There's a lot to love about the Wish by We-Vibe. Relatively small, the Wish is powered by two motors that work independently to give a variety of 10 patterns. For its size, it packs a powerful punch. It is made of body-safe silicone, is light and small enough for travel, and can be used solo or during partner sex for extra clitoral stimulation. It's quiet, even at the highest settings. And it's fully waterproof!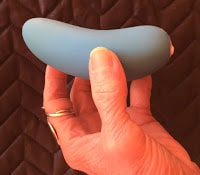 As an external vulva vibrator, the Wish is designed to curve over the whole surface of the vulva, sending vibrations to the nerve endings of the external and internal clitoris. (If you're not familiar with the parts of the clitoris that reside under the skin, my ring illustrates this in miniature, and click here for an explanation.)
You can also use the tapered tip for pinpoint vibration, if you like. The tip is pointy, soft, and squishy, so you can press down for a delightful and intense sensation.
My only problem with the Wish is that it's not quite strong enough for me. Almost, but not quite. It packs a lot of power in its small size — it's not at all a wimpy vibrator! But at 73, I often need the turbo power of the Magic Wand, the Doxy Die Cast, or the Sybian. I acknowledge — and you've told me this, readers — that most of you don't need the same level of intensity that I do. In that case, I think you'd love the Wish. And if it's not quite strong enough, it's a lovely warm-up to whatever you choose as your main event.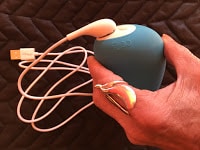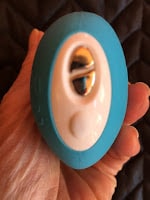 The Wish is rechargeable using a magnetic charger. The silver plates that you see at one end are for charging. The controls are the less visible, raised white button. I found the button difficult and slightly painful to press with my arthritic hand. Pressing with my thumbnail solved the problem, and I recommend that technique. Or, use the app: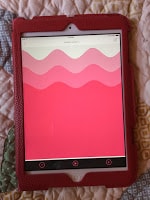 Power Pulse setting
We-Vibe offers We-Connect™, a free app that you can download from your app store, that lets you control your Wish via your phone or tablet. You can turn it off and on, choose a pattern, and turn the intensity up or down.
At first I was indifferent to this idea — why not just press the button? But I tried it, putting my iPad on the bed beside me,  and I found I liked it!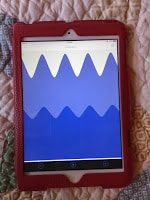 Massage setting
I could swipe up to get to full power. I could swipe right or left to choose a pattern — which was nicely illustrated on the screen — instead of pressing the button until I happened upon one that I liked. I understand that I can also create my own pattern using the app, but I didn't try that.
I think We-Connect™ would be particularly helpful if you have a disability or condition that makes pressing the button difficult. There's also the option to let a lover control your Wish via the app from anywhere in the world. I didn't try that — let me know if you do, and how you like it.
Although We-Vibe promotes the Wish as a vulva stimulator, and it definitely works for that, I think that any set of genitals would enjoy the sensations. It also works nicely as a whole body massager, curved to fit the body's peaks and valleys.
Thank you, Good Vibrations, for sending me the  Wish by We-Vibe in return for an honest review.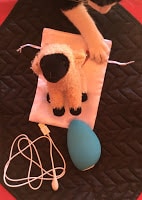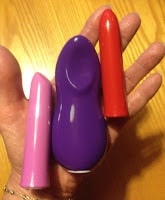 We-Wibe
doesn't just make vibrators for couples, I've discovered. I'm really enjoying the three new We-Wibe vibrators for solo play that 
Kama Sutra Closet
sent me:
The We-Vibe Tango is a tiny (3″x 5/8″) lipstick-shaped vibrator, fine for clitoral or vaginal pleasure.
The We-Vibe Salsa is a tiny (3″x 5/8″) rocket-shaped vibrator, fine for clitoral or vaginal pleasure.
The We-Vibe Touch is a palm-sized (4″ x 1.8″ x 1.2″) clitoral vibrator, shaped to cup the vulva.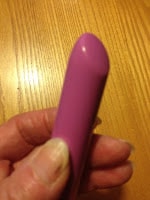 We-Vibe Tango
The difference between the Tango and the Salsa is the shape — would you rather have a flat area against your clitoris, or a narrow tip?
Though I liked the lipstick shape better, I found that it was hard to keep it from rolling around (thus moving the flat part away), especially when it and my fingers were coated with lube.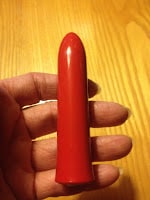 We-Wibe Salsa
Internally, they act similar to a bullet vibrator, though slim and longer than the usual bullet. There's no pull-string, but as long as the vibrations are still going, it will shoot right out if you stop clenching and push a little. (In fact, it will shoot right out if you're not careful to clench or push with a finger!)
Do not, however, insert these little toys anally, because they don't have a flange base and can indeed get stuck inside. You don't want to be the emergency room doctor's next story about what he had to remove from someone's rectum.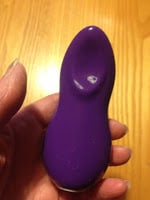 We-Vibe Touch
The Touch is for external use only, and it's my favorite of the three — although I wish (oh, there she goes again…) the vibrations were stronger. I like that it's a little rubbery and flexible rather than really hard. The shape is lovely — just tuck it where it fits over clitoris and parts of the vulva, and let it work its magic.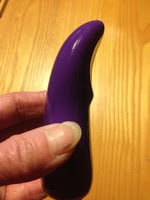 All three together are small enough to fit in a hand, and lightweight enough to be your special travel buddies. They're discreet and quiet for solo pleasure, even if someone is in the next room. They're also small enough to fit between bodies during sex with a partner, if you need extra clitoral stimulation, as many of us do.
Despite their tiny size, they pack quite a strong vibrational punch. Each has four intensities for steady vibration plus four different pulsing patterns. You just push the soft button at the end, and vibrations change — no dials or complicated controls.  (Personally, I just turn it up to the strongest, steady vibration and enjoy, but many people really like the pattern options.) Push and hold, and it turns off. Easy–except when the vibrator and your fingers are lubed, when it's apt to skitter out of your hand and across the bed. Capture it with a washcloth, or — better — get the washcloth ready first!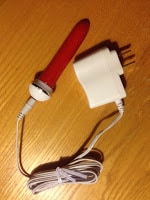 These We-Vibe playmates are completely waterproof, so you can get your enjoyment in the shower or tub!  They're made of body-safe materials: the Tango and Salsa are PC-ABS thermoplastic, and the Touch is medical-grade platinum silicone. All are eco-friendly, carbon-neutral in their manufacturing and distribution. They even come with a storage pouch, which I always appreciate.
Rechargeable, they fasten magnetically to a cute charging bulb, and in less than 90 minutes, they're recharged enough to go for two hours.
Thank you, Kama Sutra Closet, for sending me these dear little vibes to review! I'll be tucking them in my suitcase next trip!